Directory of Professionals
<< Other professionals
CIRC DE JOCS
Company: CIRC DE JOCS
Name:

Jordi Biarnés Montoliu

Profession:

Artístic agent, Artist, Critic/ Documentalist/ Journalist / Photographer, Artistic Director of events and/or facilities, Shows Director, Impresario, Trainer, Producer, Mozo/a de pista

Disciplines:

Others, Other balancing, Other genres, Rings, Balls, Dance, Diabolo, Balancing, Tight Wire , Clubs, Juggling, Mime, Unicyclism, Clown, Musical clown, Rolla Bolla, Drama, Stilts

Current spectacles
Espectacle de Pallass@s, Màgia, Poesia i Música en directe

https://circdejocs.jimdofree.com/espectacles-i-animacions/clown-power-totes-sou-pallasses/
Sinopsi
En Txukowsky i en Trotas arriben buscant pallasses. L'Escalivarra investiga i els acompanya.
Es troben amb la poesia, s'encén la màgia i sona la música.
T'hipnotitzaran!
Si els grans no juguen, el canvi climàtic farà petar aquesta olla que bull: necessitem renovar les energies.
Benvingudes al gran canvi d'energia per viure més felices, lliures i sabent cuidar-nos millor.
Ens acompanyem a canviar el món?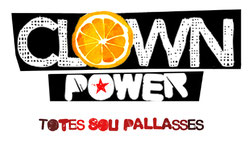 Durada: 60 min
Espai: Sala i Carrer
Province:
Tarragona
Description
Spent 18 years shaping creative spaces, through the circus, celebration and education.
Our aim is to promote and spread the world of entertainment, circus, games and all the values ​​to make changes in cultural, social and economic life of the country.
We the people as generators of change and create a more relaxed, fair, consistent, supportive, committed, responsible and environmentally friendly.
Creator: Jordi Biarnés "Txukovsky"
I played Asco, born in maternity stranger Fuentes de Rubielos, child and adolescent People's young new neighborhood of the Verneda Barcelona.
Tender, soft, MIMO, melancholy, because I do not take coffee down the pot as small as Obelix and have enough energy.
Uncle, father, clown, George beards, monitor leisure, recreation director, Integrative social bumbum beetle, biarnapia, george of the jungle ... they told me everything.
Itchy kind of forms as Clown, Educator, Trainer and Director of Leisure Time, Social Integration, Support and Education Viva Puppeteer. The training is more authentic and real life and make Father Jan 7 years and all the creatures that move interaction.
It encourages student groups related to body and health Theatre, Clown, juggling and trapeze, flexibility and contortion, acrobatics, Reflexology, Shiatsu, Yoga, Tai Chi, Reiki, Temazcal, Ecstatic Dance, Tantra and Movimiento Body remedial.
Collaborates with many international companies from Catalonia and founder of two companies: The Jackdaw (2001) and Circus Games (2012), with shows like: The clown who did not want to laugh on tour for 5 years.
Door 17 years making people play streets and squares with animations and parades on stilts, circus workshops Healthy, Traditional Games, Globofestes, Speakers and Recicl'Arts
Download CV (PDF 1803 Kb)
Video
Gallery of images